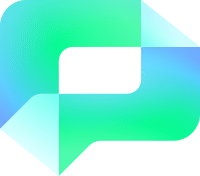 Church Presentation Software
Take the 'I' out of Church IT
Tired of doing it all yourself? Proclaim makes it easy to hand off the presentation duties to a volunteer. Train them in just five minutes.

---
Stuck in the Booth When You'd Rather Be Worshiping?
Who else in your church knows how to set MIDI cues? Or set up a confidence monitor? Or program lower-thirds to send to a live broadcast? You shouldn't be stuck in the sound booth every Sunday or left to carry the tech burden by yourself.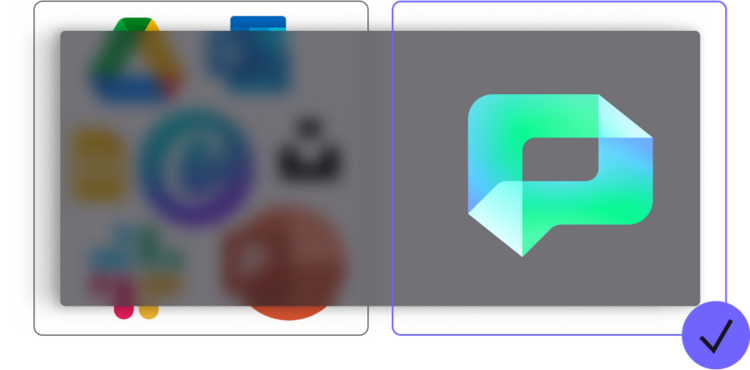 Get Back to Worship with Volunteer-Friendly Presentation Software
With Proclaim, you won't need five different tools to do your work, and you won't have to do it alone. You can collaborate, design your slides, create presentations, send lower-thirds to your stream, and record sermons all with one super-smart tool built just for churches like yours. Plus, it's so simple, you can train volunteers in five minutes.
Cloud-Based
---
We're Serious about Collaboration
With unlimited installs and unlimited accounts, you can collaborate across teams and teach anyone to run the slides for your worship services. Plus, your software will always stay up to date on PC and Mac with automatic updates, and your work will save to the cloud instantly. It's all silver lining.
Try it out.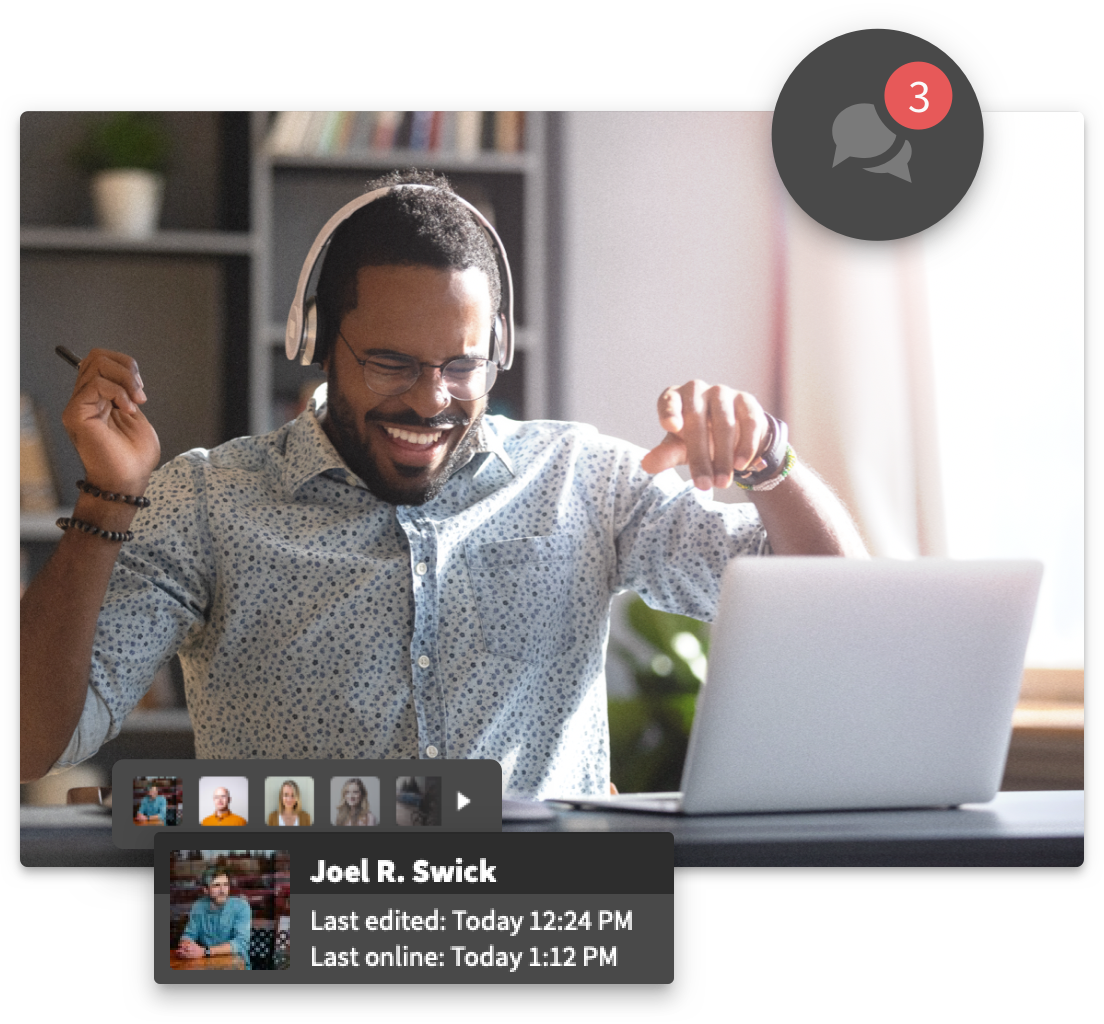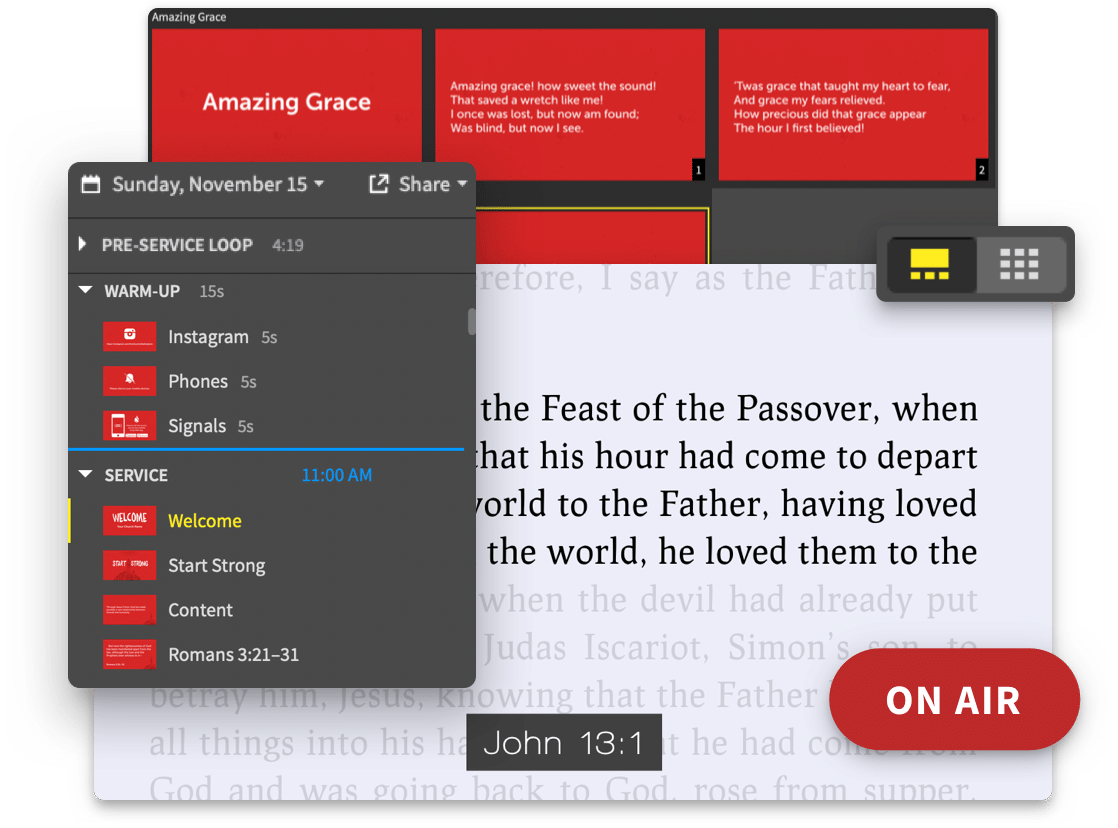 User-Friendly
---
Take Back Your Saturday Nights (and Sunday Mornings)
While you might still have to ask them if they've tried turning it off and on again, Proclaim's simple and intuitive UI cuts down on those frantic Saturday night IT calls. In only a few minutes, you can have your entire team trained on how to:
Lay out the service from opening prayer to closing benediction
Automate sermon recording at a predetermined moment in the presentation
Start the presentation by just clicking "On Air"
Display Bible passages on-the-fly, even while on air
Pick from a full view or grid layout with the adjustable control view
And more!
Learn more.
Smart Simplicity
---
Automate, Don't Re-create
Simplify your process by automating and reusing old work, and don't forget to try out these fancy features:
Automated sermon publishing: Set recording cues in Proclaim and publish your sermon before you even leave the building.
Easy live stream and multi-screen setup: Convert your in-person slides for your online service and run them in tandem automatically.
Built-in graphics: Choose from thousands of our free worship backgrounds and other church media.
Learn more.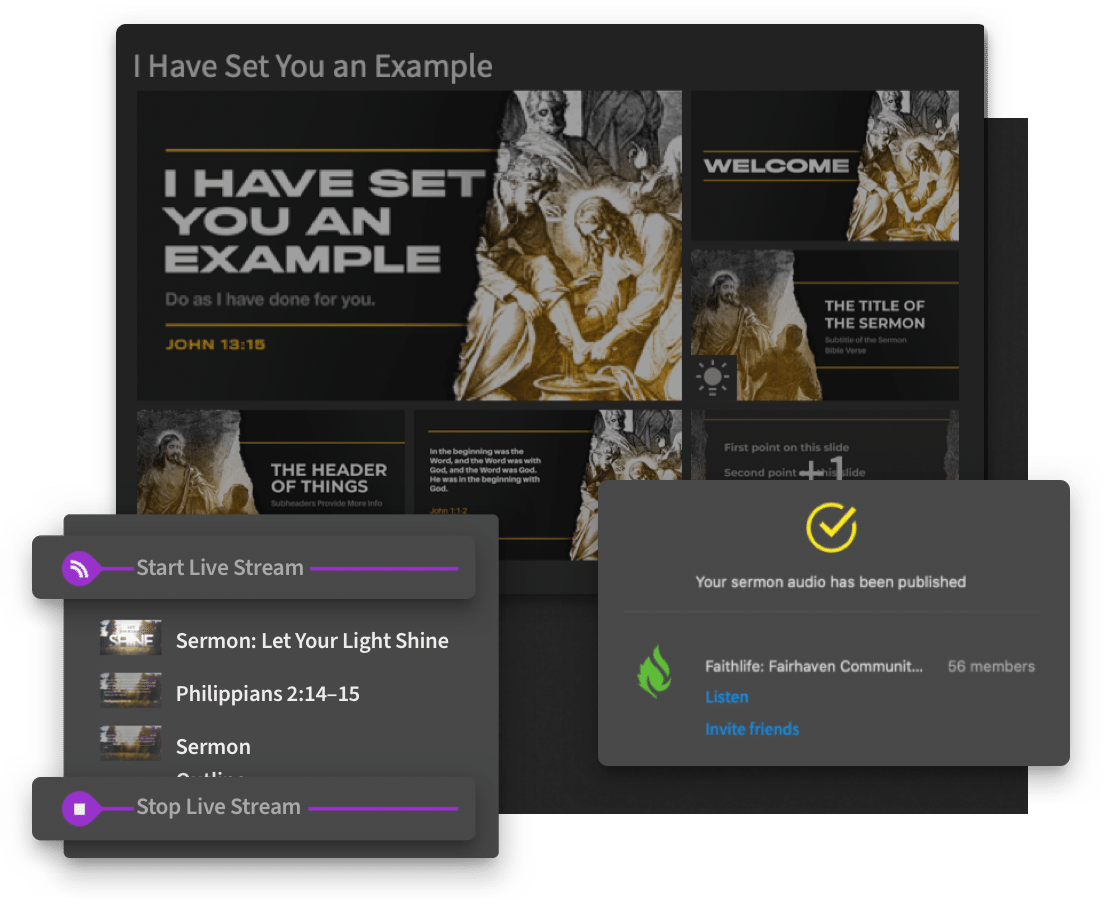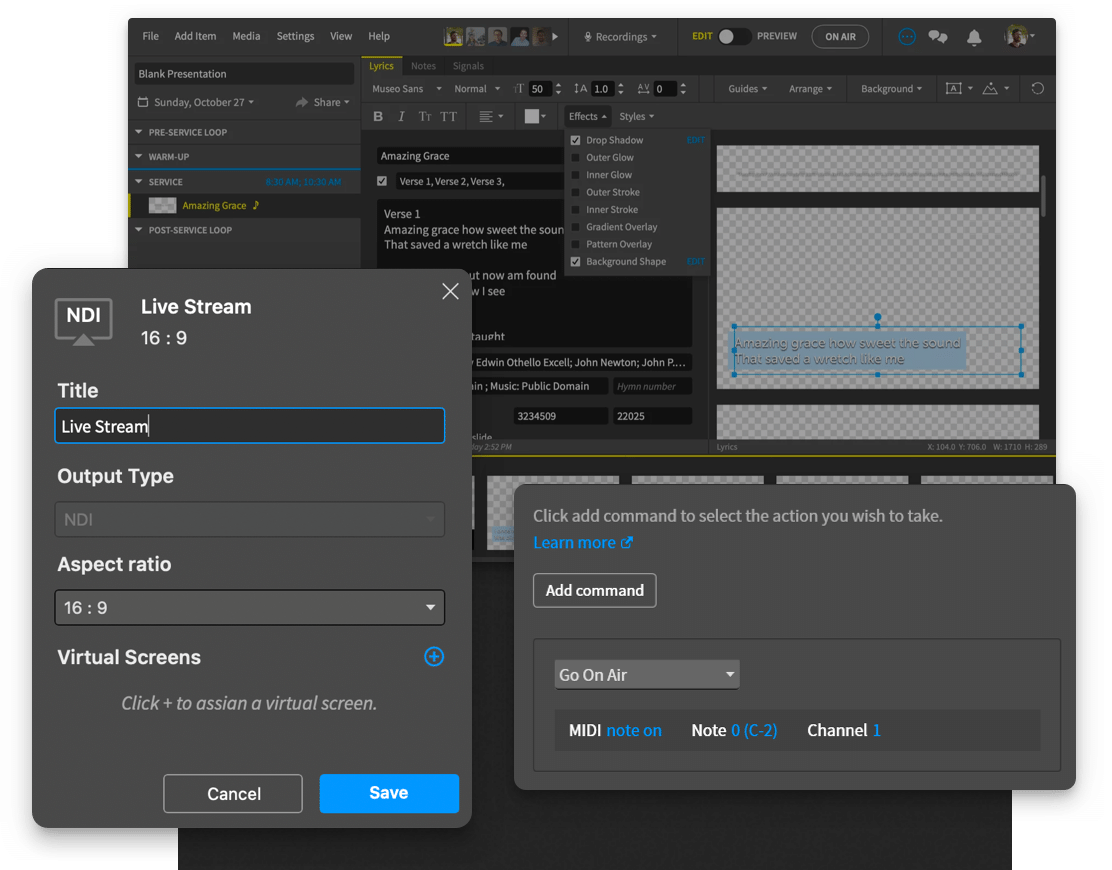 Advanced Features
---
Next-Level Production (without the Headache)
When you buy software that thinks like a church, even complex workflows are a cinch.
NDI support: Easily send a video source to your encoder.
Overlays: Show the same overlays in-person and in your live stream.
Alternate content visual screens: Show slide content in different ways on various outputs.
MIDI inputs and outputs: Send commands to and from Proclaim to navigate slides and control your lights.
Learn more.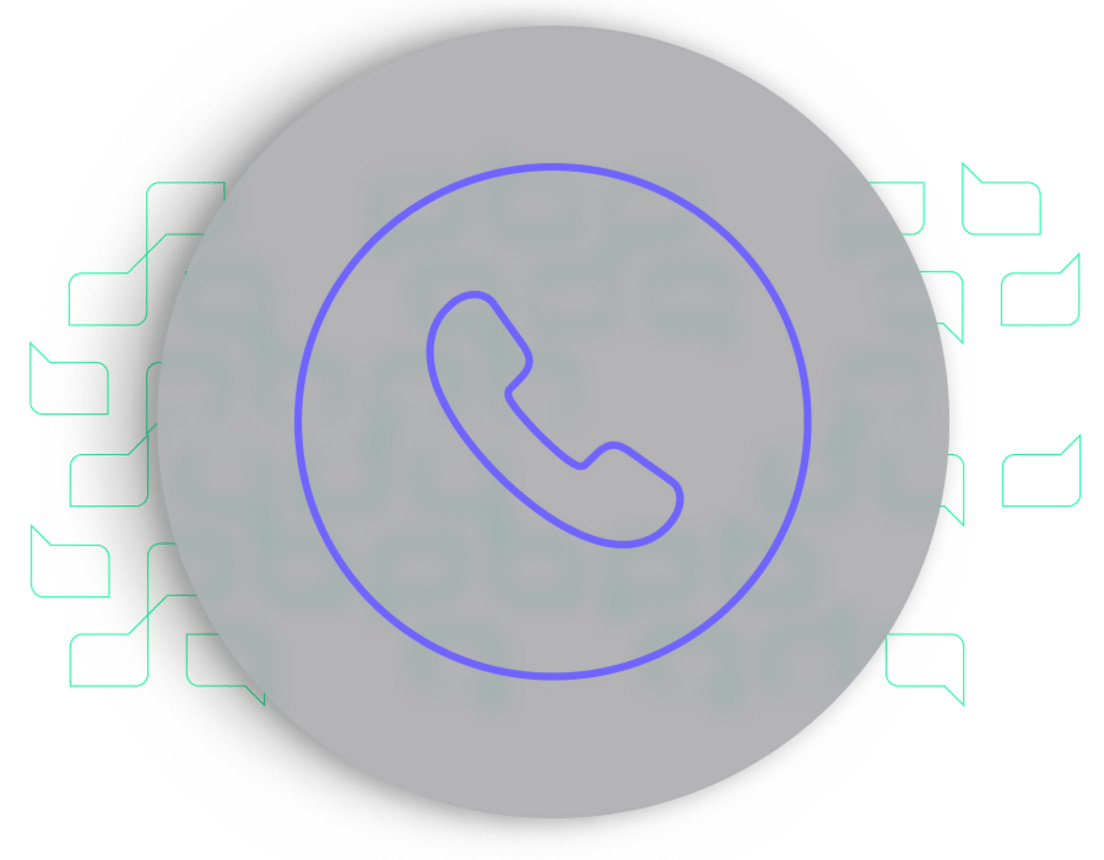 Free Customer Support
---
Support You Can Count On—Even on Sundays
There's nothing worse than hitting a technical snag right before you're about to start an event (or worse—in the middle of it). Thankfully, our support specialists are only a phone call away. We'll get you situated in no time. Best of all, your volunteers can call us when they're stuck instead of you!
---
Discover Why People, Churches, and Ministries Trust Proclaim
What I liked most about this software is that it seemed to be designed for the non-tech person. It's easy to understand and it's safe for the tech fearful.
Proclaim has solved our projection issues. It is easier to build and for non-technical volunteers to operate it. Our Sunday morning presentations have been seamless.
I chose Proclaim because it has the easiest interface and has absolutely no lag. I have used another presentation software in the past but have switched to Proclaim because it's just honestly that awesome!
Proclaim not only added "life" to our praise and worship, but it has been an amazing visual aid during our entire service. I would recommend Proclaim to any ministry!
Which Future Will You Choose for Your Church?

Without
Proclaim

Participate in worship again while volunteers run the slides.

Collaborate with your pastor, worship leader, and comms team all in one platform.

Enjoy cloud-based software that's always up to date.

Automate your sermon recording and publishing process.

Save time with predictable and reusable workflows.
Pastor, Which Future Will You Choose?
Without Proclaim
With Proclaim
Participate in worship again while volunteers run the slides.
Collaborate with your pastor, worship leader, and comms team all in one platform.
Enjoy cloud-based software that's always up to date.
Automate your sermon recording and publishing process.
Save time with predictable and reusable workflows